Standard balls

Balls for Industry, medical, trading, art and end user.
Nanoball supplies the standard ball diameters in reference to all known standards. The most common standards are the international ISO 3290 the German DIN 5401 and the American AFBMA standard. In refer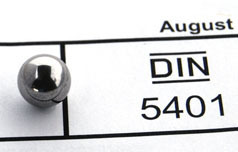 ence to these standards we are supplying nearly all industry sectors. Our balls are being used in applications of the automotive, space and aircraft, computer, food, cosmet ic and pharmacies industry. Many development, research institutes and companies are using our balls as well.
Here is an extract of possible ball materials: steel balls, stainless steel balls (AISI 420c, AISI 304, AISI 316..) chrome steel balls, tungsten carbide balls, copper balls, brass balls, berilium,Titanium,Tantal, Hastelloy, POM, PA 6,6, PEEK, NYLON (PA), DELRIN (ACETAL RESIN - POM),  POLYPROPYLENE (PP), POLYSTIRENE (PS), TEFLON (PTFE), POLYETHYLENE (PE), VULKOLLAN (PUR), TORLON, Inconel, Niobium, Aluminum,Beryllium, Glas balls (optical precision balls, jewelery balls etc.),  SODA-LIME GLASS (CRYSTAL GLASS), BOROSILICATE GLASS (DURAN-PYREX), BLACK GLASS,N B R (NITRILE RUBBER).
A Single ball quantity can be ordered as well as full container loads. Small quantities are preferable to be  ordered wit h our internet shop. For bigger quantities and special requirements we provide individual quotations.